"Mele O Ke Ke`ena Kalaunu" allows us to take a fleeting glance at the life of Lili`uokalani, last queen of the Hawaiian Islands, who lost her throne in 1893 in a  coup d´etat.
The overthrow was instigated by American businessmen, who sought to enforce their commercial interests against the strong minded monarch.
After the overthrow of the monarchy, the queen was put under house arrest for 2 years at `Iolani Palace. It is here that the scenery for the beautiful Song by Randie Fong unfolds, a fairly recent composition in the hula ku`i style of the Kalakaua era.
In the manner of a tableau the queen appears on the precious persian carpet, bedecked with flowers and diamonds in an opulent  silk gown with a train, in the throne room.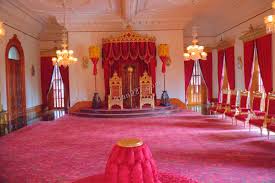 But the detailed description of this glorious sight is by no means a self-serving exercise. Instead, the composer skillfully transmits his resolute political message through delicate poetry.
The roses' frangrance on Lili`uokalani's shoulders symbolize the essence of her beautiful personality, the wreaths are a token of reverence by her subjects.
In the image of the diamond necklace that sparkles like dewdrops in the rainforest – the realm of the old Hawaiian deities – the queen' s ability to unite new western influences with the old culture during her reign is illustrated.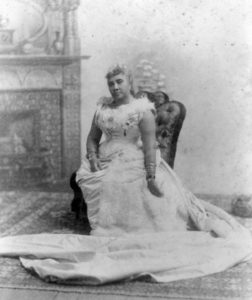 Thus the flow of the silken train of her gown is reminiscent of the tides at Hamohamo. The queen owned two informal homes in this area, which today is near Kuhio Beach. It is said that she spend carefree days there, away from the turmoils that overtook her at `Iolani Palace.
Here in the throne room, Lili`uokalani appeared determined, stepping upon the Persian carpet, that may be referring to the diplomatic floor of western politics.
The rug from Persia is dark blue, "uliuili" presumably alluding to misfortune and evil, as this is the traditional connotation of the word "uli".
What happens next, startles the queen: her people cheer from outside. Their enthusiastic cries recall the famous "stone-eating" protest song Kaulana Na Pua by
Eleanor Prendergast.
The last verse of the song is infused with the composer's patriotism for his Hawaiian nation. His flag is that of the kingdom of Hawai`i, certainly not the star-spangled banner. And it waves atop `Iolani Palace and not over the White House. The doxology is for Lili`u, queen of the Hawaiian people and the throne room is her rightful place.
Social Share